Wolves' Towns goes off in first games since car accident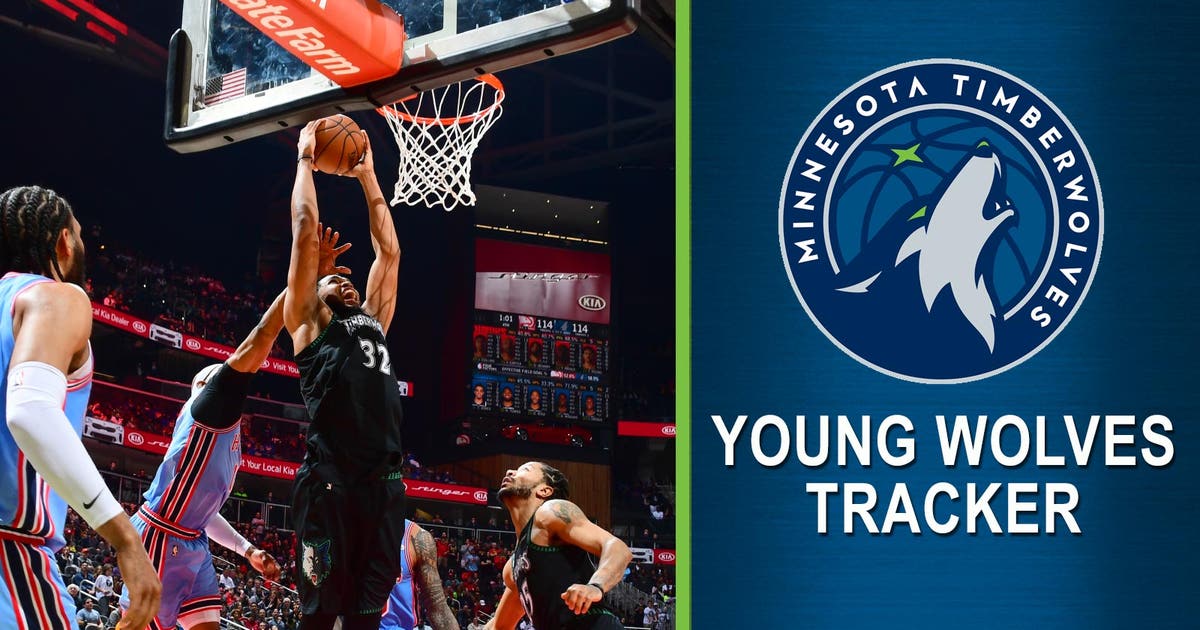 Minnesota Timberwolves aren't exactly Timberpups anymore. Karl-Anthony Towns and Andrew Wiggins are well into their NBA careers at this point, while the Wolves' lineup features seven players with 5-plus years of experience.
Welcome to the 2018-19 edition of the Young Wolves Tracker, formerly the Timberpups Tracker.
Each Thursday we'll either track the progress of the Iowa Wolves players who might be of help to the Timberwolves in the future, or a current member of Minnesota's roster. We'll also give updates on the other young players from the previous week.
This is the 16th edition of the 2018-19 Young Wolves Tracker.
More Timberwolves coverage
SPOTLIGHT ON …
Center Karl-Anthony Towns
Towns appears to be no worse for wear after walking away with concussion symptoms from a car accident he says was life-threatening.
KAT returned Monday after missing two games, an 11-point win over the New York Knicks and a 12-point loss to the Milwaukee Bucks.
He wasn't messing around.
Town had 34 points, 21 rebounds and five assists to lead the Wolves to a win over the upstart Sacramento Kings.
It was his second such game of the season — Towns had 35 points, 23 rebounds and six assists during a win over the Chicago Bulls on Nov. 24 — which puts him in impressive company.
Towns is just the fifth player since 1983 to have multiple games of 30-plus points, 20-plus rebounds and five-plus assists in a single season, joining Charles Barkley, Tim Duncan, Kevin Garnett and DeMarcus Cousins.
He nearly did it again Wednesday in the Wolves' disappointing overtime loss to the Atlanta Hawks, finishing with 37 points, 18 rebounds and three assists.
It's his first run of consecutive 30-point games since Dec. 28-30.
WOLF TRACKS
— Tyus Jones has looked sharp despite missing 13 games with an injury. He had 16 points in the Wolves' win over the Kings, and racked up 11 assists — two off his season high — against Atlanta.
— Derrick Rose has returned with a vengeance as well. He had 18 points, six rebounds and six assists against Atlanta, and is averaging 19.2 points off the bench in six games since missing time with an injury.
— Rookie Josh Okogie had a strong game in Atlanta. The Georgia Tech alum, who went to high school in nearby Snellville, Ga., had 15 points, four rebounds and two steals, while making two 3-pointers.
— C.J. Williams, signed to a two-way contract with Minnesota, had a big week down in the G League. The 29-year-old forward scored 24, 19 and 27 points for the Iowa Wolves last week, and is now shooting 36.8 percent from deep while averaging 6.6 3-point tries per game.
— Rookie forward Keita Bates-Diop got his most significant run yet for the Wolves in their loss to the Bucks, playing a career-high 14:51. He made all three of his field-goal attempts, finishing with eight points, and has now seen the floor in three of the Wolves' last four games.