Breaking down Milwaukee Brewers' starting rotation candidates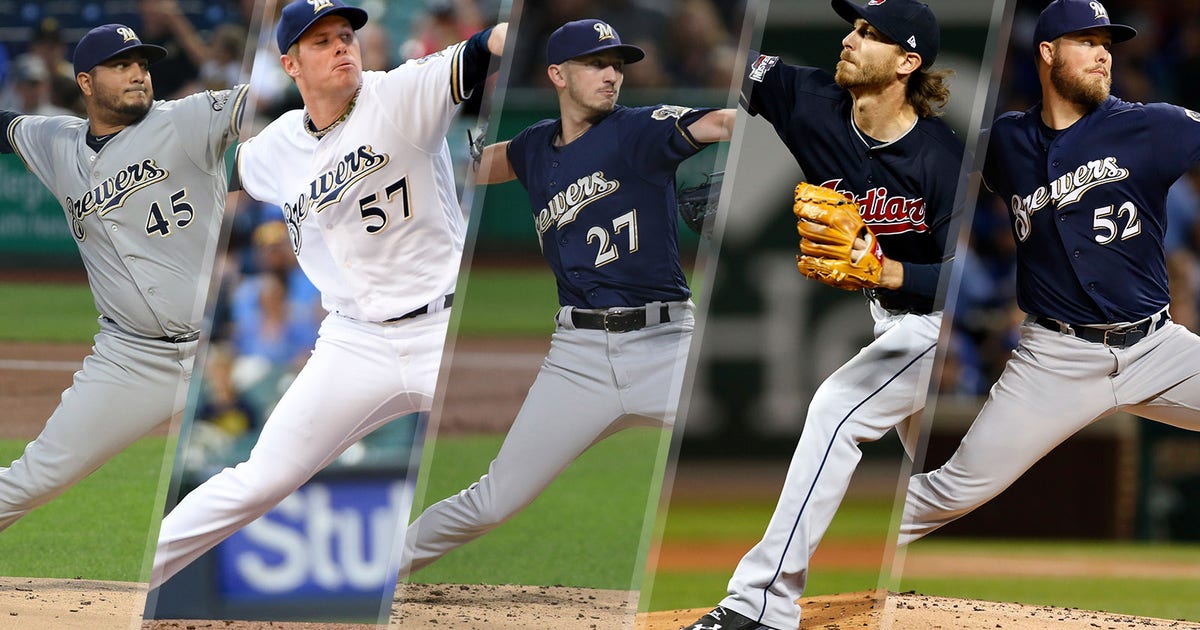 You can enter Jhoulys Chacin as a member of the Milwaukee Brewers' starting rotation in 2019.
Now put down that marker.
More Brewers coverage
On Thursday, both general manager David Stearns and manager Craig Counsell indicated that Chacin is the only one currently guaranteed a starting spot. The other four spots are being contested by seven pitchers.
Junior Guerra, who made 60 starts over the past three years for the Brewers, is not in that group. He's ticketed for the bullpen, although that could change depending on the health and status of the other seven.
Don't count on Josh Hader, either. Counsell ruled that out for this year, but left the door open in the future (although more in a quasi-starter, multiple out-getter role, pitching with rest type of role).
As for some other guys down the depth chart, Adrian Houser will have to make it as a reliever if he's on the Brewers (he could be stretched out as a starter in the minors, though) and non-roster invite Burch Smith is in a similar spot — he needs to make Milwaukee as a reliever but could start if he heads to Triple-A.
In alphabetical order, here's a rundown of the seven contenders (note: all are right-handers and, according to Spotrac, all have minor-league options remaining):
Chase Anderson
After emerging in 2017, recording a 2.74 ERA, 1.090 WHIP and 8.5 K/9, Anderson regressed last season to the tune of a 3.93 ERA, 1.190 WHIP and 7.3 K/9. By late September, in the heat of a pennant race, he was yanked from the rotation and didn't appear in the postseason.
"He got into a point where he was very synced-in with his delivery in 2017. He never quite got locked in as he wanted to be in 2018," Counsell said. "When Chase's delivery has really clicked and is really on, that's where we got a little more velocity from him in '17. That's what we're trying to get back to … what he's trying to capture."
Early in spring training, Anderson has pitched three innings allowing four hits — three of those home runs — with no walks and two strikeouts.
Zach Davies
Solid if unspectacular in his first two-plus seasons with the Brewers — a 3.91 ERA over 67 starts — injuries sidetracked Davies in 2018. He made only 13 starts and finished with a 4.77 ERA.
Said Counsell: "Look, he had a tough season last year. From his perspective, he couldn't get on track health-wise and have a big enough sample of us to evaluate. There's nothing you can do about it now, and I don't think it changes this spring for him. We have competition in our starting rotation and he's part of that. That puts it in a little different place than in previous springs, but that's part of him being hurt and part of the bar being raised and other guys ready to contribute. Zack's experience, he is definitely farther along in this thing than some of other guys are."
Things have started well for Davies this spring as he's tossed three hitless innings in his first two appearances.
Jimmy Nelson
Speaking of health …. Nelson missed the entire 2018 season after injuring his shoulder diving back to first base in September 2017. He had a breakout year in '17, with career bests of 12 wins, 3.49 ERA, 1.248 WHIP and 10.2 K/9.
Nelson is still waiting to take the mound in spring training and tweaking his forearm while throwing. He did throw again Tuesday and play catch Wednesday and Thursday. Nelson could pitch this weekend.
"His health dictates this all," Counsell said. "Eventually he's going to have to get out back on the mound and he's going to have to be performing."
Josh Tomlin
Tomlin has perhaps the toughest path. He's coming off a poor season and is in camp as a non-roster invite.
He signed with Milwaukee in part due to bullpen coach Steve Karsay, who like Tomlin comes to the Brewers from Cleveland's organization, and "a good chance of winning the World Series."
Tomlin pitched in 183 games, with 144 starts, for the Indians from 2010-18. He has a career 4.77 ERA but just a 1.226 WHIP thanks to his good control (1.3 BB/9). In 2018, Tomlin had a bloated 6.14 ERA, but said after coming off the disabled list late in the year he felt more like his old self. Indeed, from Aug. 23 until the end of the season Tomlin had a 4.22 ERA in 21 1/3 innings, walking just two and whiffing 16, although he allowed 29 hits.
"He has a lot of starting experience in the big leagues, he's had success in the big leagues," Counsell said. "Josh's spot here obviously revolves around his performance and other guys' performance in camp, and the health of other pitchers.
"Josh overall big picture he's probably relying on other circumstances. And there's always the you pitch so good that it kind of forces our hand and we're certainly open to that, too. … He's going to have to be sharp and get outs."
In two spring appearances, Tomlin has allowed one run on two hits in three innings, with (of course) no walks and two strikeouts.
The Young Guns
We group Corbin Burnes, Freddy Peralta and Brandon Woodruff together because Counsell does. "Right now I see them together. It's hard to separate them," he said.
Counsell noted that all three pitched in the big leagues and had success, both in the regular season and postseason.
The 22-year-old Peralta made 16 appearances with 14 starts for Milwaukee in 2018, with a 4.25 ERA, 1.136 WHIP, 5.6 H/9 and 11.0 K/9. Counsell noted Peralta tired in August, though, and he did sports a 5.23 ERA over his final seven games from Aug. 4-Sept. 24. He did toss three hitless, scoreless innings in the NLCS. Peralta made his spring debut Thursday in a split-squad game against San Francisco and retired the Giants 1-2-3 in his only inning of work.
"All young pitchers go through that," Counsell said of the fatigue. "I think it showed up how hard he worked this winter. He worked hard in his conditioning and strength; it's really obvious."
Said Peralta: "I know I have to fight for a five-rotation spot, but I feel really good because I know last season I pitched up in the majors. …  I feel confident. When you pitch in the playoff games … how you have to play in the playoffs, how you have to pitch, you see the game is not easy, but you can control the game."
Woodruff, who just turned 26, pitched in 19 games for the Brewers last season with four starts, recording a 3.61 ERA, 1.181 WHIP and 10.0 K/9.
Woodruff was used extensively in the postseason last year. He started and tossed three scoreless innings against Colorado in the NLDS and appeared in three games in the NLCS vs. Los Angeles, allowing three runs in 9 1/3 innings, allowing seven hits and two walks while striking out 17.
Thursday was also Woodruff's spring debut, although against Cincinnati. He walked three but did not allow a run in one inning.
Burnes was a starter in the minor leagues but moved to the bullpen last year to help out the big-league club. It paid off as he finished with a 2.61 ERA, 1.000 WHIP and 8.3 K/9 over 38 innings with Milwaukee. He pitched nine innings in the postseason, allowing two runs while whiffing 11.
But now he's Burnes is being stretched out to be a starter again. He has tossed one scoreless inning this spring, giving up one hit and is scheduled to pitch two innings Friday.
"That's the question we have to answer," Counsell said when asked about Burnes becoming a starter again.
It's not the only thing Counsell will have to decide this spring when it comes to Milwaukee's starting rotation.