Fresh Graduates & Exp. Recruitment at ICS Outsourcing Limited, Hazon Holdings, Uniterm Nigeria Limited & Pfizer Nigeria (25 positions)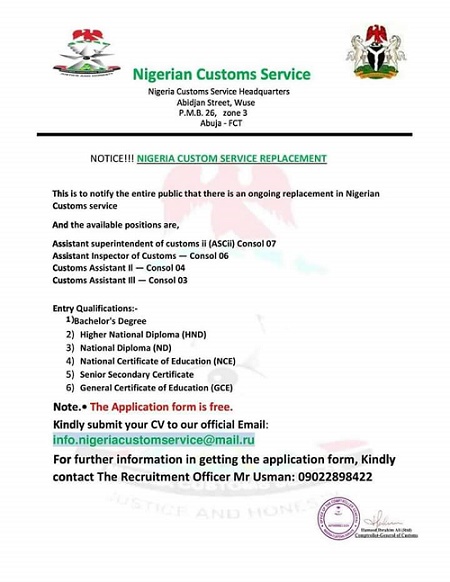 1. Latest Job Recruitment at ICS Outsourcing Limited (9 Positions)
ICS Outsourcing is Nigeria's leading Outsourcing provider incorporated in August 1994. We offer a comprehensive range of outsourcing services ranging from People Outsourcing to Sales BPO. We provide bespoke Business Support Solutions to all kinds and sizes of business.
a. Entry-level Quality Control Officer
b. Field IT Support Officer
c. Key Accounts and Business Development Officer/Coordinator
d. Wholesale and Retail Trade Manager
e. Account Officer
f. Cost Controller
g. Business Development Officer (Medical Laboratory)
h. Warehouse/Logistics Officer
i. Accountant 
2. Ongoing Recruitment at Hazon Holdings (5 Positions)
Hazon Holdings is a continually growing and leading conglomerate domiciled in Africa. We specialize in raising standards through our synergy of diverse business units. We are core believers in driving people, processes and businesses to attain peak productivity in given fields through steadfastness and ultimate discipline.
a. Procurement Officer
b. Marketing Operation Manager
c. Business Development Manager
d. Nutrionist
e. Female Trainee Engineer
3. Immediate Recruitment at Uniterm Nigeria Limited (6 Positions)
Uniterm Nigeria Limited was incorporated in 2004. It has grown rapidly with professional staff of about 200 delivering quality and cost effective services in the Oil & Gas sector of the Nigerian economy. Uniterm is a Nigerian Company owned by Nigerians. The workforce is made up of professionals drawn across the world.
a. Electrician
b. Barge Master
c. Assistant Driller
d. Driller
e. Offshore Installation Manager (OIM)
f. Tool Pusher
4. Fresh Job Recruitment at Pfizer Nigeria (3 Positions)
Pfizer – Good health is vital to all of us, and finding sustainable solutions to the most pressing health care challenges of our world cannot wait. That's why we at Pfizer are committed to applying science and our global resources to improve health and well-being at every stage of life.
a. Regulatory Affairs Administrator
b. Medical Representative
c. Country Brand Manager
The post Fresh Graduates & Exp. Recruitment at ICS Outsourcing Limited, Hazon Holdings, Uniterm Nigeria Limited & Pfizer Nigeria (25 positions) appeared first on Jobs in Nigeria – http://jobsinnigeria.careers.