Resilience Officer at Save the Children Nigeria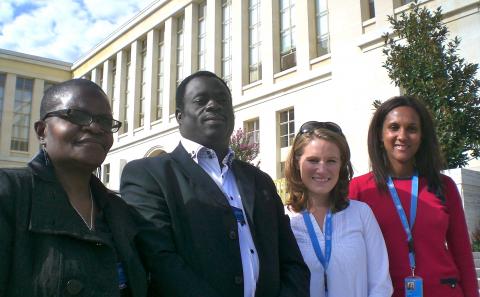 Save the Children is a leading international organization helping children in need around the world. First established in the UK in 1919, separate national organizations have been set up in more than twenty-eight countries, sharing the aim of improving the lives of children through education, health care and economic opportunities, as well as emergency aid in cases of natural disasters, war and conflict.
In Nigeria, Save the Children has been working since 2001. The early focus was on getting children actively involved in shaping the decisions that affect their lives. Today, Save the Children is working in seven federal states – Zamfara, Yobe, Jigawa, Katsina, Kano, Bauchi and Kaduna – focusing on providing basic healthcare and protecting children.
We are recruiting to fill the position below:

Job Title: Resilience Officer
Job ID: 190000VR
Location: Yobe
Employee Status: Fixed Term

Introduction
Save the Children International is a 'dual mandate' organization and as such equal priority will be given to both humanitarian and development work.
This is the only way we will be able to ensure that some of the fundamental rights that we believe children have, such as survival, safety and constant access to protection and education can be guaranteed.
Role
Under the general direction and guidance of the HEA Coordinator, ensure all activities related to the HEA, early warning and early action are implemented with high quality and in a timely manner.
Main Responsibilities
Programme Support:
Facilitate the training of staffs from the Yobe State Environmental Protection Agency and SEMA on: Soil erosion control, environmental impact assessment, fuel efficient technologies, afforestation
Support the Household Economy Analysis (HEA) baselines and outcome analyses
Facilitate the trained government staff to step down information on seasonal weather patterns and   conservation of natural resources and weather information to farmers.
Organize the training of farmers on fuel efficient cook stoves
Support the set up an Early Action system (define triggers, thresholds & monitoring system with Yobe SEMA: one-day workshop & follow-up)
Facilitate the collection and analyses of monthly early action data for MEAL framework and context monitoring
Strengthen the State level data collection and analysis through effective staff training and setting up of Management Information Systems (MIS)
Conduct HEA baselines (including 6-day training pre data collection)
Carry out seasonal Outcome Analysis
Work with the line ministries to plant trees through cash or food for work to support the re-afforestation efforts
Facilitate intra-community dialogue on sharing of natural resources and develop community natural resource action plans together with the government
Participate in the development of HEA Common Approach in Save the Children by contributing to further studies to improve the application of HEA. Specifically contribute to the definition of thematic or sub thematic strategic axis of Early Warning (EW), link with response and Food Security Information Systems (FSIS) within the broader fields of resilience, social protection, safety nets and livelihood support.
Participate in the systematic documentation of project impact, lessons learnt and corrective measures based on case studies, compilation and analysis of monitoring information in collaboration with the MEAL (Monitoring, Evaluation, Accountability and Learning) and FSL teams.
Share and exchange best practices with other international and local NGO (ACF-USA, Oxfam GB, and CRS) working the Food Security and Livelihood sector in Nigeria:
Promote the exchange of tools based on HEA for programming (design, targeting, monitoring, evaluation) between agencies and ensure Save the Children is recognized as a proactive actor and leads on some of the initiatives falling under its mandate;
Participate in the development of a joint advocacy platform, and produce short advocacy notes from the HEA results.
Comply with all relevant Save the Children policies and procedures with respect to child safeguarding policy, health, security and safety, equal opportunities and other relevant policies.
Any other reasonable duty as may be assigned by the line manager that is consistent with the nature of the job and level of responsibility.
Capacity Building:
Identify learning and training opportunities for partner staff and communicate this to the HEA coordinator.
General:
Comply with Save the Children policies and practice with respect to child protection, code of conduct, health and safety, equal opportunities and other relevant policies and procedures.
Skills and Behaviours
Accountability:
Hold oneself accountable for making decisions, managing resources efficiently, achieving and role modelling Save the Children values in the HEA.
Ambition:
Set ambitious and challenging goals for oneself and the team, take responsibility for his/her own personal development and encourage the team to do the same.
Future orientated, think strategically and on a country programme wide scale.
Collaboration:
Approachable, good listener, easy to talk to.
Build and maintain effective relationships with colleagues, members and external partners and supporters.
Value diversity and different people's perspectives, able to work cross-culturally.
Creativity:
Develop and encourage new and innovative solutions to problems faced.
Honest, encourages openness and transparency, builds trust and confidence.
Displays consistent judgement.
Qualifications & Experience
Essential:
Graduate qualification in discipline related to agricultural economics, development economics, agriculture, food security or other relevant discipline or commensurate work experience in lieu of graduate qualification.
National experience (at least 2 years) in food security and livelihoods programming (ideally in the Sahel belt of Nigeria) with specific experience in the following:

Excellent understanding of the Household Economy Approach (HEA) framework and ability to lead baseline assessments;
Excellent understanding of the Outcome Analysis framework and related spreadsheets, and ability to lead seasonal outcome assessments with minimal support;

Proficient in the use of Microsoft excel as a data base management tool.
Strong commitment to capacity building of national staff and partners with willingness to adopt a participatory and consultative approach.
Extensive experience in data management and analysis, including data collection tools design, database design and management and data quality checks.
Sound understanding of rights-based approaches to development and participatory concepts and practical experience in similar context.
Experience in establishing and working in partnership with civil society actors, Government, non-State actors and other international organizations.
Good interpersonal skills with the ability to communicate and negotiate clearly and effectively at all levels, taking into account cultural and language difficulties with tact and diplomacy.
Ability to communicate and maintain good work relations with relevant local authorities in politically sensitive environments.
The ability to work closely in a team, to be patient, adaptable, flexible and able to improvise and work in an environment that is often stressful and potentially volatile.
Experience of working in insecure/conflict situations and security management.
Willingness to travel regularly and in difficult circumstances.
Sensitive to issues affecting children and committed to Save the Children's Child Safeguarding Policy.
Application Closing Date
12th April, 2019.
The post Resilience Officer at Save the Children Nigeria appeared first on Jobs in Nigeria – http://jobsinnigeria.careers.