Senior Budget and Finance Officer – ALSF at the African Development Bank Group (AfDB)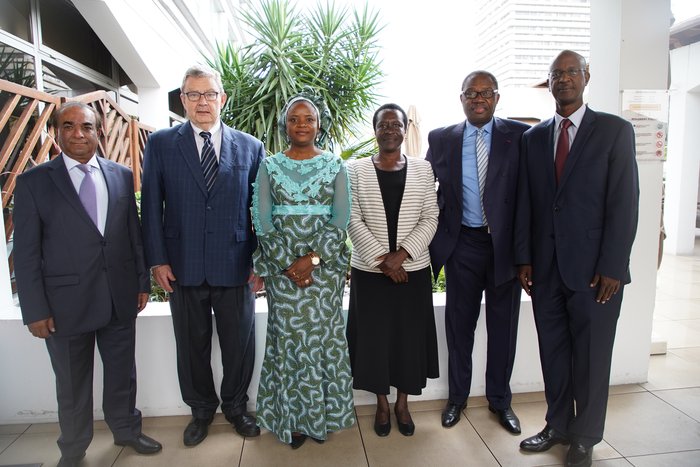 African Development Bank Group (AfDB) – Established in 1964, the African Development Bank is the premier pan-African development institution, promoting economic growth and social progress across the continent. There are 80 member states, including 54 in Africa (Regional Member Countries).  The Bank's development agenda is delivering the financial and technical support for transformative projects that will significantly reduce poverty through inclusive and sustainable economic growth. In order to sharply focus the objectives of the Ten Year Strategy (2013 – 2022) and ensure greater developmental impact, five major areas, all of which will accelerate our delivery for Africa, have been identified for scaling up, namely; energy, agro-business, industrialization, integration and improving the quality of life for the people of Africa.
We are recruiting to fill the position below:
Job Title: Senior Budget and Finance Officer – ALSF
Reference: ADB/19/026
Location: Côte d'Ivoire
Grade: PL5
Position N°: 50088568

Objectives
The African Legal Support Facility ("ALSF" or "Facility") is an international public organization dedicated to providing legal advice and technical assistance to African countries in matters pertaining to creditor litigation and complex commercial transactions. The goal of the Facility is to remove asymmetric technical capacities and level the field of legal expertise among parties during litigation and negotiations.
The Facility strives to further development in Africa by removing obstacles to realizing the benefits of debt relief through its work in vulture fund litigation. It also provides advisory services to improve the negotiating capabilities of its member countries. Through all of its activities the Facility aims to build additional legal capacity on the continent. The ALSF is hosted by the African Development Bank (AfDB).
The Position
As part of the African Legal Support Facility, the Senior Budget and Finance Officer will:
Determine the impact of each transaction on the ALSF's financial accounts and indicate that each transaction is legitimate and completed.
Implement accounting systems to ensure the transactions, budgets and overall finances are maintained in a consistent manner.
Confirm and compile the needs of the company through previous accounting data and using the available resources provided by the accounting and financial department of the AfDB.
Duties and responsibilities
Under the general supervision and guidance of the Director of the Facility, the Senior Finance and Budget Officer will perform the following duties and responsibilities:
Develop and provide appropriate guidelines to enable the Secretariat and Working Groups to prepare detailed annual budgets for their activities;
Coordinate the preparation of the annual budget, on the basis of ALSF' s integrated annual work plan for review by ALSF's  Director and approval by ALSF's Management Board;
Implement the allocation of funds to individual units at the Secretariat and Working Groups according to the approved budget;
Set up and update ALSF's budget system in collaboration with AfDB's Financial Controller Department (FIFC);
Monitor ALSF's overall budget implementation and issue monthly and quarterly internal reports;
Provide necessary guidance to the Secretariat and Working Groups on the application of AfDB's financial rules and regulations;
Maintain ALSF's accounts in full compliance with  the Memorandum of Understanding which ALSF signed with AfDB;
Prepare and provide accurate financial accounts for the annual external audit exercise and provide the auditors with all necessary information they need to carry out their assignment;
Maintain a consistent oversight of ALSF's income and expenditure and ensure correct and up-to-date accounting;
Certify and monitor payments of invoices, and coordinate disbursements to Working Groups and partners based on contribution agreements;
Prepare detailed financial analysis on income and expenditure for the annual reporting to the Management Board;
Provide relevant financial data to the Resource Mobilization and Monitoring and Evaluation Officers in proposals writing, negotiation and negotiation with donors.
Oversee and provide guidance to ALSF staff on the host institution's human resources policies, rules and regulations that are applicable to ALSF.
Selection Criteria
Including desirable skills, knowledge and experience:
Hold at a Master's degree in Accounting, Finance or related discipline;
Have a minimum of  five (5) years of relevant professional work experience in accounting and financial management;
Experience in the use of accounting and financial software; ability to operate in an automated accounting environment; including advanced spreadsheet, database packages and Microsoft applications (Word, Excel, PowerPoint etc.)
A deep understanding of accounting principles, financial concepts and transaction processes; and a solid knowledge of internal controls and risk management principles;
Ability to multi-task and manage competing demands and priorities under pressure;
Integrity, credibility, diligence, attention to detail and transparency;
Ability to prepare, present and discuss financial statements
Ability to communicate effectively (written and oral) in English or French, preferably with a working knowledge of the other.
Experience with ERP/SAP is an added advantage.
Application Closing Date
3rd May, 2019
The post Senior Budget and Finance Officer – ALSF at the African Development Bank Group (AfDB) appeared first on Jobs in Nigeria – http://jobsinnigeria.careers.