Red Wings will pick sixth in draft for second straight year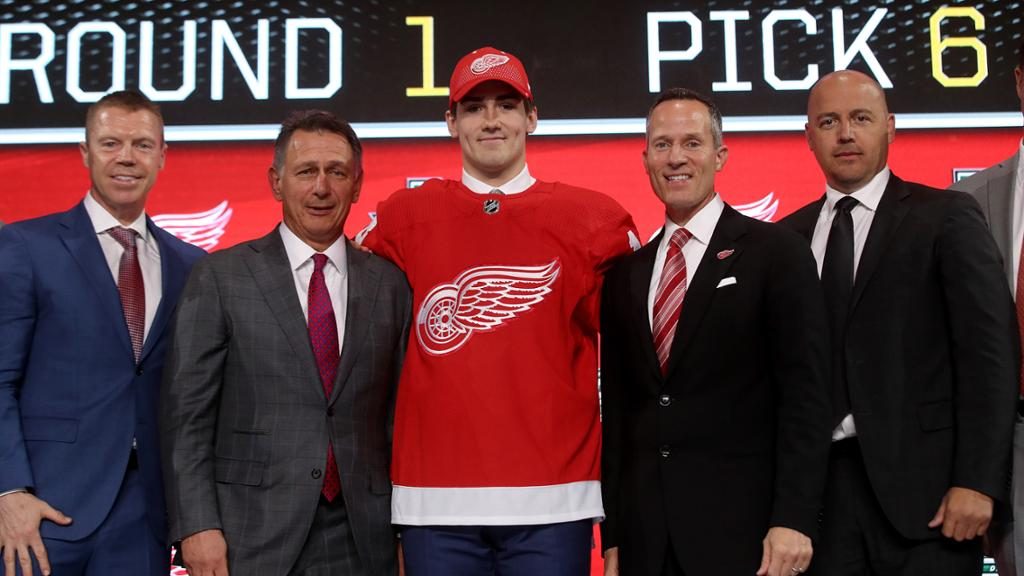 The Detroit Red Wings will be in a familiar position at the NHL Entry Draft this summer.
The NHL moved up the draft lottery to before the Stanley Cup playoffs started, holding the event in Toronto Tuesday night.
Unfortunately for the Wings, that was all the moving up for them for the night.
The Red Wings finished 32-40-10 for 74 points, the fourth-worst record in the league, but ended up falling to the sixth spot in the lottery.
Detroit also picked sixth last season and selected forward Filip Zadina, who was predicted by the mock drafts to go third.
The Chicago Blackhawks and New York Rangers moved into the top three.
Detroit came into the night with a 9.5 percent chance at the No. 1 pick and a 28.8 percent chance of getting a top-three pick.
Percentage-wise, the Wings had the best chance of getting the sixth pick at 34 percent.
The New Jersey Devils were third worst with a record of 31-41-10 for 72 points but ended up winning the lottery. They had an 11.5 percent chance at the top pick.
Tweet from @NHL: It's official.The @NJDevils will be heading to the #NHLDraft with the No. 1 pick! #NHLDraftLottery pic.twitter.com/o5IIGMR6qZ
The Devils will have the opportunity to take center Jack Hughes of the U.S. National Team Development Program, considered to be the best draft-eligible player.
Tweet from @hallsy09: Officially adding "NHL lottery ball specialist" to my hockey resume.
The Ottawa Senators, whose first-round pick goes to the Colorado Avalanche, were last with a record of 29-47-6 for 64 points. The Avalanche ended up with the fourth overall pick.
The Los Angeles Kings were second to last with a record of 31-42-9 for 71 points but will pick fifth.
Two seasons ago, the Wings finished with the seventh-worst record but ended up ninth in the lottery and selected center Michael Rasmussen.
The 2019 NHL Entry Draft will take place at Rogers Arena in Vancouver, British Columbia on June 21-22.
Here is the order of the 15 lottery picks:
1. New Jersey Devils
2. New York Rangers
3. Chicago Blackhawks
4. Colorado Avalanche
5. Los Angeles Kings
6. Detroit Red Wings
7. Buffalo Sabres
8. Edmonton Oilers
9. Anaheim Ducks
10. Vancouver Canucks
11. Philadelphia Flyers
12. Minnesota Wild
13. Florida Panthers
14. Arizona Coyotes
15. Montreal Canadiens