Graduate Receptionist & Administrative Officer at the Royal Norwegian Embassy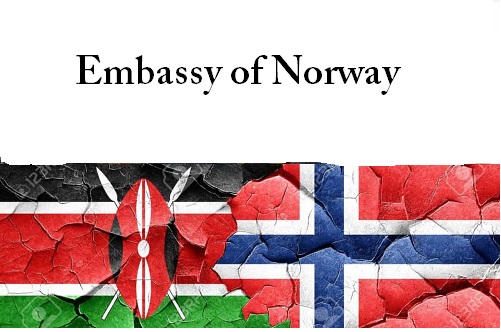 The Royal Norwegian Embassy is an extension of the Ministry of Foreign Affairs whose main aim is to secure and promote Norway's interests internationally. Norway's interests are determined by such factors as its geographical location in a strategically important area, its open economy, its position as a coastal state and steward of substantial marine resources, and its extensive exports of oil and gas.
Diplomatic relations between Nigeria and Norway was established just after Nigeria's independence in 1960. In addition to Nigeria, the Norwegian Embassy in Abuja is also covering Benin, Togo and Cameroon
We are recruiting to fill the position below:
Job Title: Receptionist and Administrative Officer
Location: Abuja
Terms of Employment: Permanent
Job Description
The Royal Norwegian Embassy in Abuja has five diplomats and eight local employees. The receptionist and administrative officer is retiring and the embassy is seeking her replacement.
Background
Norway has strong political ties with Nigeria, comprehensive business relations and administer a development programme as well as humanitarian assistance to Nigeria. The Embassy is also accredited to Cameroon, Benin and Togo.
Position
We are currently looking for a well-organised and flexible individual with strong inter-personal skills for the position of Receptionist and Administrative officer. The person will be part of the Embassy's Administrative Team.
The main responsibilities will be as follows:
Reception duty and receiving visitors to the Embassy
Assist Head of Chancery with consular matters
Assist Head of Chancery with procurement
Handling diplomatic pouch and all official mail
Responsible for archives of the Embassy's development programme
Keep inventory lists updated
Make travel arrangements
Liaise and maintain good relations with Government agencies, other Embassies and the UN system
Help prepare and organize social functions and event administration
Required Knowledge, Skills and Abilities
Good inter-personal skills and good networking abilities in the domestic and diplomatic community
The ability to work independently and meet deadlines under demanding conditions.
Readiness to take on new tasks and areas of responsibility, if and when required.
The daily work at the Embassy can be hectic and requires at high degree of flexibility and readiness towards tasks also outside the direct responsibility.
Good interpersonal skills and ability to work within a team consisting of both Nigerian and Norwegian staff.
Excellent knowledge of spoken and written English. Good writing, presentation and communication skills.
Computer literacy and interest in new IT technology including Microsoft Office, Word, Excel and Outlook.
Education and Experiences
University or other Higher Education in relevant disciplines for the position.
Experience from similar positions with responsibility for procurement and/or consular and/or travel arrangements.
Experience from an embassy is an advantage.
Experience from work with national authorities, multilateral organizational and CSOs is an advantage.
Salary
Salary according to experience and qualifications.
Application Closing Date
30th December, 2019
The post Graduate Receptionist & Administrative Officer at the Royal Norwegian Embassy appeared first on Jobs in Nigeria – http://jobsinnigeria.careers.