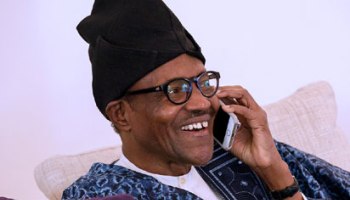 Congratulatory phone calls are already being channeled towards Nigeria's incumbent President, Mr Muhammadu Buhari who is re-contesting the Presidential elections in Nigeria.
Our sources confirm that major support groups and notable members of the international community  are reaching out to the President to wish him well.
Recall that Mr Buhari had expressed a high degree of certainty of being re-elected on a number of occasions including earlier today after he participated in the voting exercise in Daura, Katsina.
A psychiatrist Dr Prince Awuzie commented that he was confident the President would retain his seat and expected Mr Buhari to return to Abuja earlier than expected to begin planning for his next four years in office. He stated that there would be greater expectations from Nigerians and the international community  and the President would be aiming at outperforming his predecessors as he  builds upon his legacy of being a powerful anti-corruption advocate.
A Nigerian born Harvard professor who was also in Nigeria for the elections stated that Mr Buhari was expected to pull a number of positive surprises ranging from policy reform to reorganisation of personnel. He felt that the President's travels around Nigeria would bring fresh inspiration and already  seems to have him fired up with fresh passion to serve each and every Nigerian.
Collation is on-going nationwide.
Details awaited.
Culled from iCanBePresident.org