Talentsquare Job Vacancy : Business Development & Partnership Officer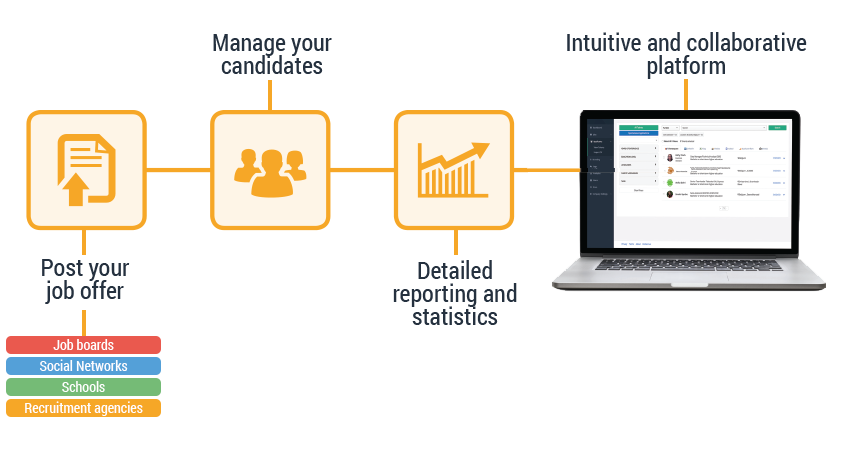 At Talentsquare (RC 1453480), we help to find, grow and keep the remarkable assemblage of talent who are potential leaders in various fields as well as emerging specializations. We are champions of great organization culture and values, partnering with key business owners or hiring managers to help them build their organizations. Whether consulting for clients on how to build their teams, recruiting the right people, managing talents or developing programs for them– we are exceptionally focused on putting people (talent) first, and being as clear and transparent as possible to help our client's understand how people are important to their business performance.
We are recruiting to fill the position below:
Job Title: Business Development & Partnership Officer
Location: Lagos, Nigeria
Job Descriptions
The business development & partnership officer will identify sales leads, pitch our services to new clients and maintain a good working relationship with new contacts.
This role revolves around good communication. We are looking for an ambitious and energetic Business Development Manager to help us expand our clientele. You will be the front of the company and will have the dedication to create and apply an effective sales strategy.
The goal is to drive sustainable financial growth through boosting sales and forging strong relationships with clients.
Responsibilities
Identifies trendsetter ideas by researching industry and related events, publications, and announcements; tracking individual contributors and their accomplishments.
Locates or proposes potential business deals by contacting potential partners; discovering and exploring opportunities.
Screens potential business deals by analyzing market strategies, deal requirements, potential, and financials; evaluating options; resolving internal priorities; recommending equity investments.
Develops negotiating strategies and positions by studying integration of new venture with company strategies and operations; examining risks and potentials; estimating partners' needs and goals.
Closes new business deals by coordinating requirements; developing and negotiating contracts; integrating contract requirements with business operations.
Protects organization's value by keeping information confidential.
Updates job knowledge by participating in educational opportunities; reading professional publications; maintaining personal networks; participating in professional organizations.
Enhances organization reputation by accepting ownership for accomplishing new and different requests; exploring opportunities to add value to job accomplishments.
Develop a growth strategy focused both on financial gain and customer satisfaction
Conduct research to identify new markets and customer needs
Arrange business meetings with prospective clients
Promote the company's products/services addressing or predicting clients' objectives
Prepare sales contracts ensuring adherence to law-established rules and guidelines
Keep records of sales, revenue, invoices etc.
Provide trustworthy feedback and after-sales support
Build long-term relationships with new and existing customers
Develop entry level staff into valuable salespeople
Brainstorming with business development team to create new project strategies
Identifying sales and services that would appeal to new clients
Managing company and client expectations
Reviewing timeframes and budgets
Creating sales pitches
Executing sales objectives
Managing client accounts
Finding and following new sales leads
Arranging business meetings and one-on-one conversations with prospective clients
Attending networking events
Negotiating sales contracts
Preparing sales contracts; following company rules and guidelines
Building trust and long-term relationships with clients/customers
Managing records of sales, revenue, and other important data
Making professional decisions in a fast-paced environment
Cultivating positive interactions and relationships with sales representatives, team leaders and managers, and executives to evaluate sales strategy and results
Motivating team members to exceed expected goals
Developing ways to improve the customer experience and build brand loyalty
Researching market and industry trends
Qualifications
Proven working experience as a business development officer, sales executive or a relevant role
Experience in customer support and a recruitment and staffing firm is a plus
Ability to build rapport
Time management and planning skills
B.Sc/BA in Business Administration, Sales or relevant field.
Goal-oriented, organized team player
Encouraging to team and staff; able to mentor and lead
Eager to expand company with new sales, clients, and territories
Able to analyze data and sales statistics and translate results into better solutions
Excellent verbal and written communication skills
Excellent negotiation skills
Able to multi-task, prioritize, and manage time effectively
Self-motivated and self-directed
Experienced at compiling and following strict budgets
Experienced at preparing and presenting quarterly goals and forecasts for future projects
Comfortable in both leadership and team-player role
Creative problem solver who thrives when presented with a challenge
Three to five years of previous experience in sales, management, customer service, finance, administration, or related field
Demonstrated and proven sales results
Proficient computer skills, Microsoft Office Suite (Word, PowerPoint, Outlook, and Excel) and CRM software
Must be able to put together and pitch a proposal to meet client needs
Abide by all non-compete/solicit agreement
Application Closing Date
Not Specified.
The post Talentsquare Job Vacancy : Business Development & Partnership Officer appeared first on Jobs in Nigeria – http://jobsinnigeria.careers.