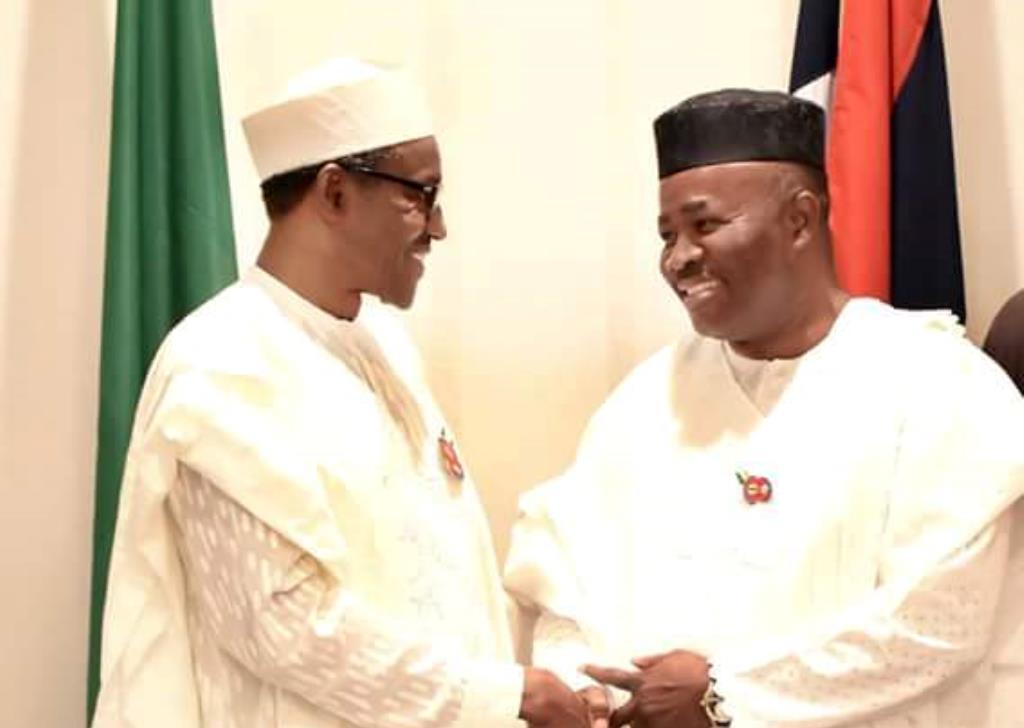 The rising profile of Senator Godswill Akpabio. – ~Editorial
Chief  Godswill  Obot Akpabio, CON needs no rigorous introduction as he has long been known as the 'Super Governor'.  His time as Governor in Awka Ibom state witnessed the most remarkable strides in human capital development, social Infrastructure expansion, security upgrade, technological innovation  and numerous other advancements in  Akwa-Ibom state.
The Senator has further consolidated his image as a National figure as he creates waves  as a distinguished Senator of the Federal Republic of Nigeria before being appointed Minister of the Federal Republic of Nigeria and taking full charge of the Ministry for Niger Delta Affairs. 
It is a forgone conclusion that his antecedents and activities are causing positive ripples  in the Nation's political space. When we turn our focus towards the run-up of the 2019 presidential elections, the senator made a most significant leap by joining forces with Mr. Anti-corruption/Anti-indiscipline himself President Muhammadu Buhari.  Senator Akpabio's move was little understood at the time even though he emphasised his strong desire to tackle the ills hampering Nigeria  and being a Nationalist as core reasons for his leap of faith.
The influence of Mr President and his ideology on Senator Akpabio seems to have ever grown in momentum as Mr. Godswill Akpabio has begun to command undeniable respect as a Nationalist and rising czar of anti-corruption on the National scene. Two very recent collaborations with Mr. President emphasize this new trend which is gathering momentum as a movement even though it is said to be  resisted by many 'old hands' who fear the revolutionary ideology.
The first is his ongoing war against  the corruption that had bedevilled the Niger Delta Development Commission (NDDC) where Mr. Akpabio has stated clearly his stand against so many evil and corrupt practices that have plagued the NDDC. The dogged nature of his efforts are clear as we witness constitution, scrapping  and reconstitution of reformist committees revealing a man who is determined to get things right no matter how much effort is required or who's ox is gored.  The recent replacement of the Interim Management Committee's former Acting Managing Director  with a no-nonsense seasoned  intellectual and Professor of Medicine also speaks volumes. He has recommended and implemented stringent audit reviews of the activities and management of the NDDC. Already $70 million dollars which had been 'abandoned'  in a bank since 2006 has suddenly surfaced. 
The second is his being saddled with the  responsibility of a grand  book unveiling on Muhammadu Buhari's anti-corruption/anti-discipline war and a strong relaunch of the War Against Indiscipline and Corruption (WAIC). This book unveiling heralds a new wave of emphasis on the need to institutionalise the President's ideology on the aforementioned subjects.
With these two recent engagements it is evident that Mr Akpabio is now working closely with Mr President to drive his National agenda on anti-corruption and indiscipline. It also becomes obvious that he is one of the very few who  have the ears of Mr President.
Very few may be privy to the specific reasons, calculations or circumstances which led to Mr President choosing to flag off his presidential re-election campaign with Governor Akpabio in Awka-Ibom state, their most recent collaboration in sanitising the NDDC which seems to have strategically flagged off his second term fight against corruption and most recently his being chosen to spearhead  the re-launch of an anti-corruption campaign.
In conclusion,  one thing is certain, the distinguished Senator has officially become a student and collaborator with President Muhammad Buhari. Only time will unfold the extent of their relationship and plans for Nigeria.