APC Youths March In Support Of Buhari In Kaduna, Niger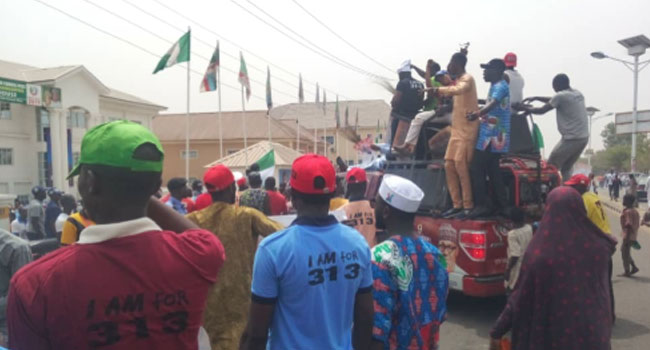 Ahead of Saturday's Presidential and National Assembly Elections, youths of the All Progressives Congress (APC) in Kaduna and NigerStates have staged a rally and campaign to promote peaceful election in the state and the country in general.
The youths also declared their support for President Muhammadu Buhari's order against ballot box snatchers.
The rally in Kaduna drew members of the group from different local government areas of the state including physically challenged persons, who marched from the Murtala Mohammed Square in the state capital through major roads and streets.
The leader of the group, Maryam Abubakar, said the peaceful rally was to enlighten young people who are the major culprits of election thuggery and rigging to restrain themselves from such acts and to participate in the democratic process of choosing their next leaders irrespective of party affiliations.
They said part of the objective of the campaign was to increase youth voter turnout and positive youth engagement with candidates and stakeholders on issues that affect them.
READ ALSO: Youths Stage Protest Over Killing Of APC Ward Chairman In Imo
In neighbouring Niger State, members of another group under the aegis of the Buhari Support Organisation have held what they tagged a "One Million Persons Match" for President Muhammadu Buhari and Governor Abubakar Bello.
They said they were out to drum support for the re-election of the president and the state governor in the general elections.