Fashola Disagrees With Oshiomhole On Call For INEC Chairman's Resignation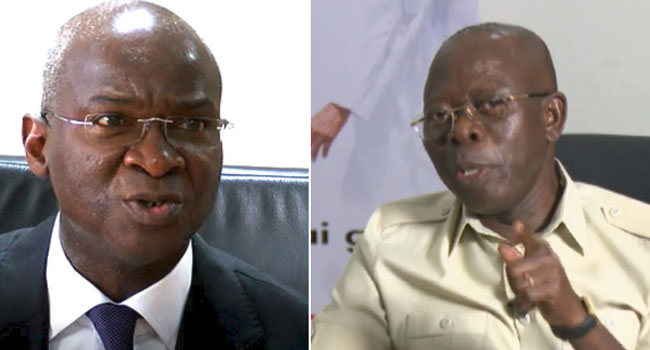 The Director of Planning and Monitoring of the All Progressives Congress (APC) Presidential Campaign Council, Babatunde Fashola, has disagreed with the party's National Chairman, Adams Oshiomhole, on the call for the resignation of the Chairman of the Independent National Electoral Commission (INEC), Prof. Mahmood Yakubu.
Both the chairmen of the APC and its rival Peoples Democratic Party (PDP) had asked the INEC chairman to resign following the postponement of the General Elections earlier scheduled to hold on February 16 and March 2nd, 2019.
Both parties had accused each other of colluding with the electoral umpire to postpone the polls with a view to influencing the outcome in each other's favour.
READ ALSO: We Are Not A Political Party, INEC Rejects Allegations Of Bias
However, during a briefing with journalists to outline the rights, responsibilities and action points of the APC agents for the forthcoming elections in Abuja, Mr Fashola said those calling for the resignation or sack of the INEC chairman should realise that the electoral process was too far gone for a change in the leadership of the commission.
He applauded the INEC chairman for his decision to brief the media on a daily basis on plans and progress made by the commission to ensure that the February 23 Presidential and National Assembly elections hold successfully.
According to Mr Fashola, who is also the Minister of Power, Works and Housing, INEC has a responsibility to prove that it can conduct free, fair and credible elections.