Hilton Worldwide Job Vacancy : Painter- Room Perfect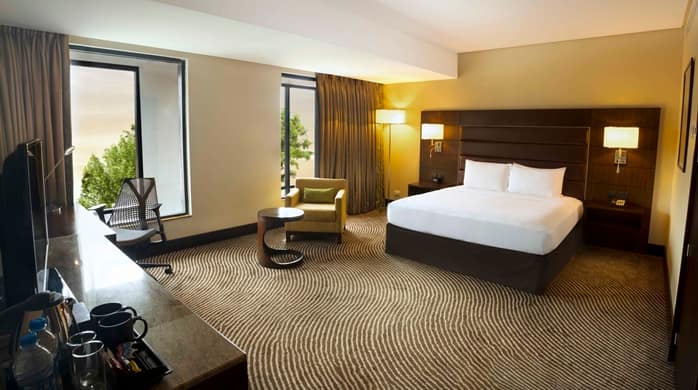 Hilton is the leading global hospitality company, spanning the lodging sector from luxurious full-service hotels and resorts to extended-stay suites and mid-priced hotels. For nearly a century, Hilton has offered business and leisure travelers the finest in accommodations, service, amenities and value. Hilton is dedicated to continuing its tradition of providing exceptional guest experiences across its global brands.  Our vision to fill the earth with the light and warmth of hospitality unites us as a team to create remarkable hospitality experiences around the world every day.  And, our amazing Team Members are at the heart of it all!
We are recruiting to fill the position below:
Job Title: Painter- Room Perfect (Contract)
Location: Abuja

Job Summary
A Painter with Hilton Hotels and Resorts maintains and repairs painted, wall covered, stained and varnished surfaces of building structures, furniture and equipment throughout the facility in order to project a neat and well-maintained appearance.
As an Engineering Team Member, you would also be called when needed to multi-task  in other sections
What will I be doing? 
A Painter will be responsible for performing the following tasks to the highest standards:
Prepare and paint surfaces of building structures, furniture and equipment using proper Application techniques. Measure lengths of surfaces to determine quantity of paint needed. Plaster or spackle surfaces, mix paint colors to match existing colors and apply paint to all building and equipment surfaces with brushes, rollers and spray guns. Assign tasks, supervise, train, discipline and coordinate subordinates.
Install and repair covered wall and ceiling surfaces throughout the facility. Hang vinyl, paper, fabric and foil wall coverings of various weights.
Maintain and repair caulked, grouted and masonry surfaces throughout the facility. Requires caulking, grouting, plastering and setting tiles, cinder block/brick and cement work.
Prepare and maintain wood surfaces requiring staining, varnishing and lacquering. Apply alcohol or water stains and develop a finished product from unstained wood or existing finished wood.
Multi-task in other sections when required.
Requirements
A Painter serving Hilton brands is always working on behalf of our Hotel, serving our Guests and working with other Team Members. To successfully fill this role, you should maintain the attitude, behaviours, skills, and values that follows:
Considerable knowledge of paint, varnish, stain, enamels, lacquers, wall coverings, masonry work and other related products as well as application and mixing procedures of such products.
1 year of related work experience.
Working knowledge of basic hand tools and other equipment including: brushes, rollers, scrapers, sandpaper, spray guns, lifts, etc.
Considerable knowledge of OSHA standards and application for working with chemicals.
Basic English language communication skills in order to fully comprehend job assignments, read and understand manufacturer
Ability to multi-task in other sections.
Application Closing Date
Not Specified.
The post Hilton Worldwide Job Vacancy : Painter- Room Perfect appeared first on Jobs in Nigeria – http://jobsinnigeria.careers.