Prophet Olagoroye Reveals Funke Akindele Twins Were Through IVF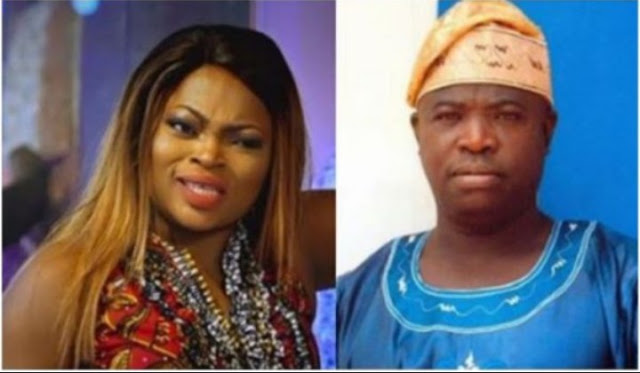 Prophet Faleyimu Olagoroye, founder of Mountain of Blessing and Miracle Church of Christ, popularly known for saying Funke Akindele was destined to marry a gateman has again reacted to the birth of her twins which she had in December 2018.
He has also previously prophesied that Akindele can never conceive.
Read:'Funke Akindele Must Marry A Gateman Before She Can Have A Child' – Prophet
The prophet who is obviously not backing down on his claim revealed that Akindele-Bello put to bed through In Vitro Fertilisation (IVF), Yoruba Movie Gist reports.
He said,
"About Funke Akindele, she was a nobody when I have been giving out revelation about her. it was revealed to me that she will be very rich and famous but she will find it difficult to have a child, only prayers can help her out. After her first marriage, the news was everywhere that she was pregnant, thereafter, we read something else about the pregnancy in the news. Subsequently, she got married to another person and I repeated the prophesy.

"She was said to be pregnant again and after sometimes, news came out again that she lost it. The media came to me and I explained what was happening and the only way out. When she delivered twins, I read people's comments on social media that I am a prophet of doom.
Remember I said she should pray very hard if she must have a child because she chooses wealth above children when she was coming to this world. One of the things I said was that she should go for a deliverance and she should ask God with her mouth what she want, not to go to pastors or prophets for prayers. If I pray for her to have a baby, no miracle will happen, the only thing she can do is to pray with her mouth or she get married to someone who is not up to her standard. Then, when she is pregnant, her wealth will be reducing.

After she delivered, it was revealed to me that she got the baby through IVF. If Funke Akindele had followed any of the 3 solutions I gave her, she would have been pregnant naturally. People should read Genesis 25 vs 21-26, Genesis 3 vs 9-24, Genesis 17 -21, and 1Samuel 25-28, you will see people who are looking for the fruits of the womb from God and see how God answered them naturally, not through scientific method. It is only the people who can't conceive naturally Doctors will advise to go for IVF.

Meanwhile, IVF is 50/50 things, not everyone that did it ended up with babies. It is a scientific method which is not in the Bible. Jesus Christ was born through Holy Spirit not IVF and there is no other miracle like that after him. IVF is not for poor people, it is for the rich who can afford it."